DRAW THE LINE ON REGIONAL CRIME Between 2015 and 2020, an estimated value of $…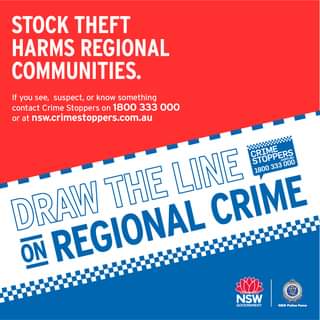 DRAW THE LINE ON REGIONAL CRIME
Between 2015 and 2020, an estimated value of $22.5m worth of sheep and cattle reported stolen within NSW alone.
If you consider the loss of stud stock and animal by products
the financial impact on our primary producers could realistically be over $60m in NSW alone.
Please help our farming community and report any information you have to Crime Stoppers.
https://nsw.crimestoppers.com.au
Save Triple Zero (000) for emergencies.